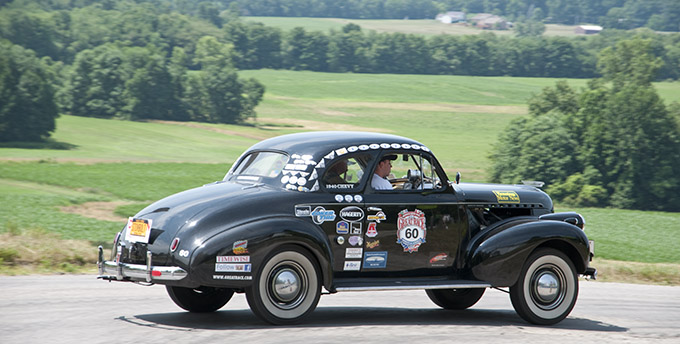 The rally season will draw to a close in the next couple of months with the Coker Tire Challenge September 18-20 in Chattanooga, Tennessee and the Pumpkin Run October 16-18 in Millsboro, Delaware. Those two annual rallies are very familiar to racers, most of whom have already signed up. But here's a new event that is just been announced for the spring of 2016 in Fairport, New York, and will be hosted by Howard and Doug Sharp. Here's the complete announcement from the Sharps about the event:
The Northeast Rally Club is proud to announce that their annual spring rally will take place in Fairport, New York. During the 2012 Great Race, this small village on the Erie Canal was voted best lunch stop by drivers and navigators. Come see what Fairport has to offer and why it is "one of the best 100 places to live" in the United States.

Dates of the spring rally are May 13-15. This includes a Fun Run Friday followed by competition Saturday and Sunday. The rally will consist of a route through the beautiful Finger Lakes region of New York State and will include a stop at a winery in Geneva, NY. Lunch Saturday will be hosted by Great Race veterans John and Scott Hudson, in Baldwinsville N.Y.
The field for this rally will be limited to 50 cars. A deposit of $200 dollars is required to hold your spot. The total rally fee is $400, and the balance will be due by March 2016. As is tradition with the Northeast Rally Club, a silent and live auction will be held to benefit a local charity. Remember to bring something nice to donate to help raise funds. We hope that you can attend the first rally in Fairport Rally. To enter or for more information you can write to Howard or Doug at:
Howard Sharp
445 Loud Road
Fairport, NY 14450
sharps29@frontiernet.net
Douglas Sharp
dougie49@frontiernet.net