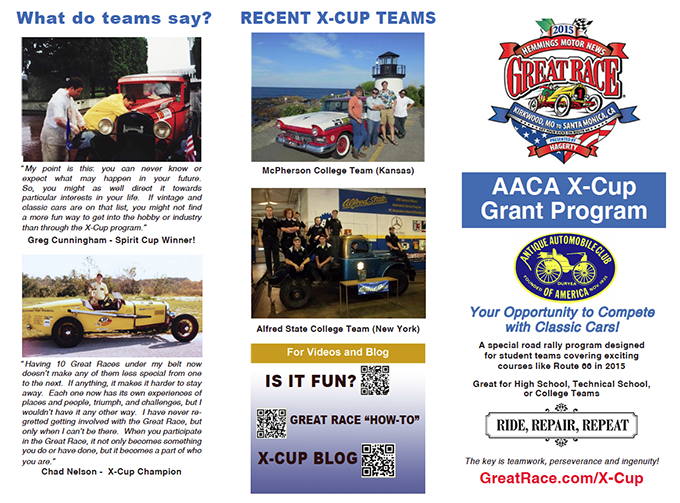 Three Great Race X-Cup teams – McPherson College of Kansas, Alfred State College of New York and a high school team from Ponca City, Oklahoma, has been awarded the first-ever X-Cup grants from the Antique Automobile Club of America. Each team will be presented with a $1,000 check at the start of the 2015 Great Race in Kirkwood, Missouri, next month.

The grants will help pay the expenses the teams incur with participating in the race, including fuel, hotels, food and vehicle transportation. The grants do not go towards entry fees, as the Great Race has provided sponsors for each of the teams and will continue to do so.
Two of the three teams, McPherson and Ponca City, have participated in the Great Race for several years, but this will be the first trip for the Alfred State team in their 1953 Power Wagon. McPherson will compete in a 1957 Ford Fairlane and Ponca City will race a 1956 Buick convertible.
AACA is the country's leading collector car organization with more than 60,000 members worldwide and has a huge commitment to youth in general and to youth programs in the hobby. Each student from the three teams will also receive a one-year student membership in AACA.
The Great Race will start Saturday, June 20, in Kirkwood, Missouri, and will finish Sunday, June 28, on the Santa Monica Pier with a Route 66 theme.