Today's title with apologies to My Fair Lady, of course. It seems (to borrow another song clip) that we are searching for aces in all the wrong places! Today was:
a) miserable rainy weather,
b) a driver's day, with lots of steady speed holding, and
c) afflicted with a LOT of interference issues, especially on Leg 5.
So, we completed the day and pulled into Bar Harbor, expecting that leg 5 might be a bit rough, but that we had executed: solid, simple, no obvious errors in 6 legs – maybe a 10 second day, maybe better. Nope. 36 SECONDS!! And Leg 5 was the best of the lot. How can this be???

Well, at least Ken and Lauren had a fantastic day, with the best raw score of ANYONE, in all classes, at 6 seconds. GO Team Altered States! Only the Fredettes age factor gave them the daily win, by a fraction of a second.
The day started drippy and then got worse. The wind came up, the rain intensified. No ball game would be held in such weather. Still, our car has a top and windows. The open car teams really earned their factors today!

We had a lunch stop at the Seal Cove Auto Museum – home of multiple Amelia Island Concours winners: a small but superb museum, that was showing the development of automotive advertising, too – from the early features and how-to-use-it-and-why ads to the selling-on-sex-and-dreams stuff, with gorgeous artwork. Nice, and a delicious meal, too. Just not enough time! And the rain poured. And the re-start was right after the one exit, right beside the spectator parking, and in the middle of a looping run of on-course Great Racers already out ahead of us. With limited visibility and no usable shoulders. What a mess! We were blocked three times: by another car moving into position as we took off, by a spectator that pulled out right in front of us as we made the second pass-by, followed by a moronic move by another Great Race car waiting to start, in which he pulled a U-turn, at the start point, right in front of us as we made our second pass at 30 mph. Luck and hard steering (plus some wet-road brake skidding) saved a lot of sheet-metal adjustment there! We thought the leg was lost as there is only limited ability to adjust for such emergency moves. But it was our best leg of the day. Weird.

After lunch we ran an unpaved section -what fun! Sliding and mudding along in the rain. No parts actually fell off, but I'm sure some are looser now. We definitely developed a persistent misfire – so far not sure why. Our route took us to Acadia National Park ($30 entry), normally a beautiful spot, but today fully socked in (not a good use of funds). Oh well. Here's a sense of it:

Dinner was at the pier in Bar Harbor. The weather was so rough (rain and 20 mph winds) that no sane person came out to see us, so they said we needn't wait around as usual. Dale and I walked the town in search of a restaurant not booked 30-45 minutes wait. We found a gourmet burger shop that would seat us if we were a party of four, so we drafted a couple of famous musicians (in town for a jam/convention/school), Mike Broderick and Alice Fleischman. Turns out they were delightful dinner partners. And the food was great when we eventually got it, though the service was no-tip terrible. Very much a first-world problem. Interesting little town. This Nash, decorating the door of one establishment, seems as hung out to dry (in the rain) as we are.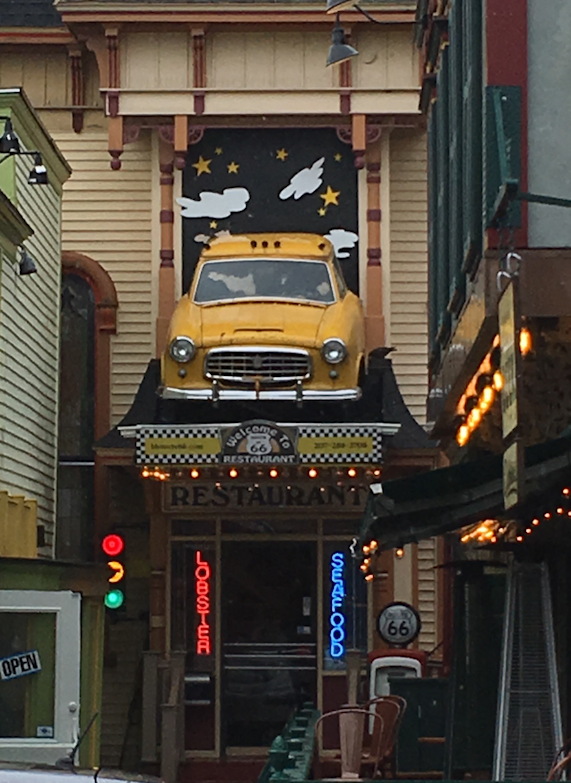 So, a very disappointing day. Bender did what was asked, despite his persistent misfire (hmmm… I wonder if the misfire is somehow connected to the persistent late running – maybe via the speedo?). The defogger actually worked fairly well. The door seal and trunk seals revealed their leaks, but nothing irreparable. We placed 43rd for the day and so dropped to 25th overall. Still on the top half of the front page (barely). A few more cars were fully vanquished, so we ought not complain. If the weather and the misfires are not worse tomorrow, we'll surely do better. Right? Right? Helllooooo?

When we left the pier and got to our hotel (NO FREE COOKIES! A 2nd First World Problem), we found the 60 Hawk on stand and legs protruding from below. Seems their master cylinder was leaking badly, but they found one at the local NAPA (I LOVE NAPA!), so they did a swap. Note the rain tent pop-up, one of those luxuries that comes with a support team, but we ALWAYS run a capella (so the glory will be ours all ours! BWAAHAHA!

Yeah, so that's about it for tonight. As Annie sag, "Tomorrow, tomorrow…."