We made no errors today, at least in our rally procedure. I believe it was all due to our mascot Bender the robot (our car's namesake) taking an active role in the proceedings. We mounted him on the front fender (the Bender fender, of course) and asked him to put his foot down. He did and we clamped it in the hood so he would stay put to guide us.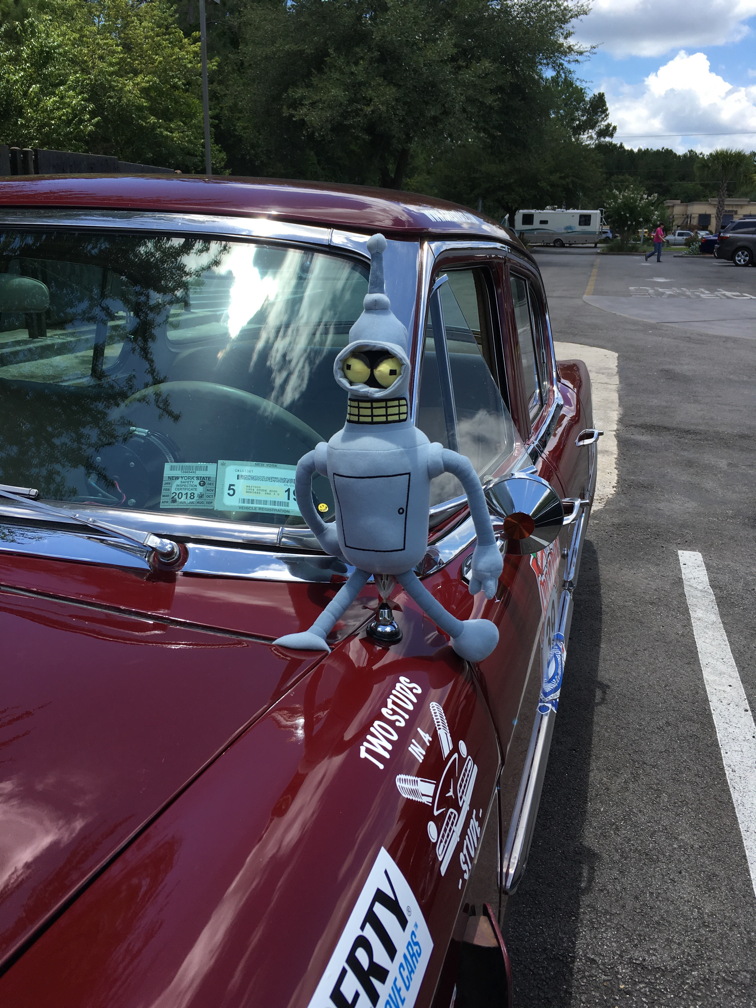 On the other hand, we had ignored a putt-putt exhaust leak that developed the day before, figuring a little noise was no big deal! Wrong. As it turns out, that little leak got bigger, and the bigger leak sent lots of hot gases into our engine bay on a very hot day, which together raised the temperature of the gas in the carburetor just above its boiling point. Whoops. Caburetors don't work well with bubbly frothy vaporous fuel. They like nice clean liquid fuel. Ol' Bender spit and coughed and gagged and would barely hold 45 mph, and he took about half a week to get to that. Made keeping on time a wee bit harder. We didn't get lost. We didn't make a single wrong turn. We THINK we made up much of the time we lost due to Bender's maladies, but its hard to be sure. We figured we would find out when we got to the finish line today in beautiful downtown Tifton, GA (really pretty downtown, where they treated us superbly and fed us marvelously. Thank you, Tifton: you're now in first place for Best Overnight Stop City). But no, it was not to be. When we pulled up to Rally Master John Classen, who NEVER makes mistakes, he had no score sheet for us, car #39!!!! Unbelieveable, and as I write, we still have no official score for our day's work. Bender was so distraught after struggling like a dying man across the desert without ever letting us down (totally), and then to be left scoreless (when he was SURE he won some aces today), he turned to drink! The Wandering Troubadours of Finland (aka WTF team) saved the day and presented him with a pack of his own BENDER BEER!


Just right after a long, hot, trying day – scoreless. NOTE: NO ACTUAL BEER WAS HARMED IN THE MAKING OF THIS PHOTO. Afterwards, we gave Bender a nice toddy of 20W-50 oil, Dale sang some wrenchy lullabyes that tightened up the loose and leaky parts we could find and we went peacefully to rest (thanks to Bill Croker for the magic double-wristed, 13/27 quantum ratchet that fits only the hidden screw on the right exhaust manifold of a 54 Studebaker – it was in his support trailer under the secret formula for Coca-cola, the map to the Lost Ark of the Covenant and some old newspapers announcing the discovery of electric light).
In other news, We had a great send-off, as we all knew we would, from Jacksonville. Dale's daughter Trisha came up from Sarasota to help see us off, too. Lots of crowd interest. Great fun in the Summer sun (ahem: LOTS of Summer sun).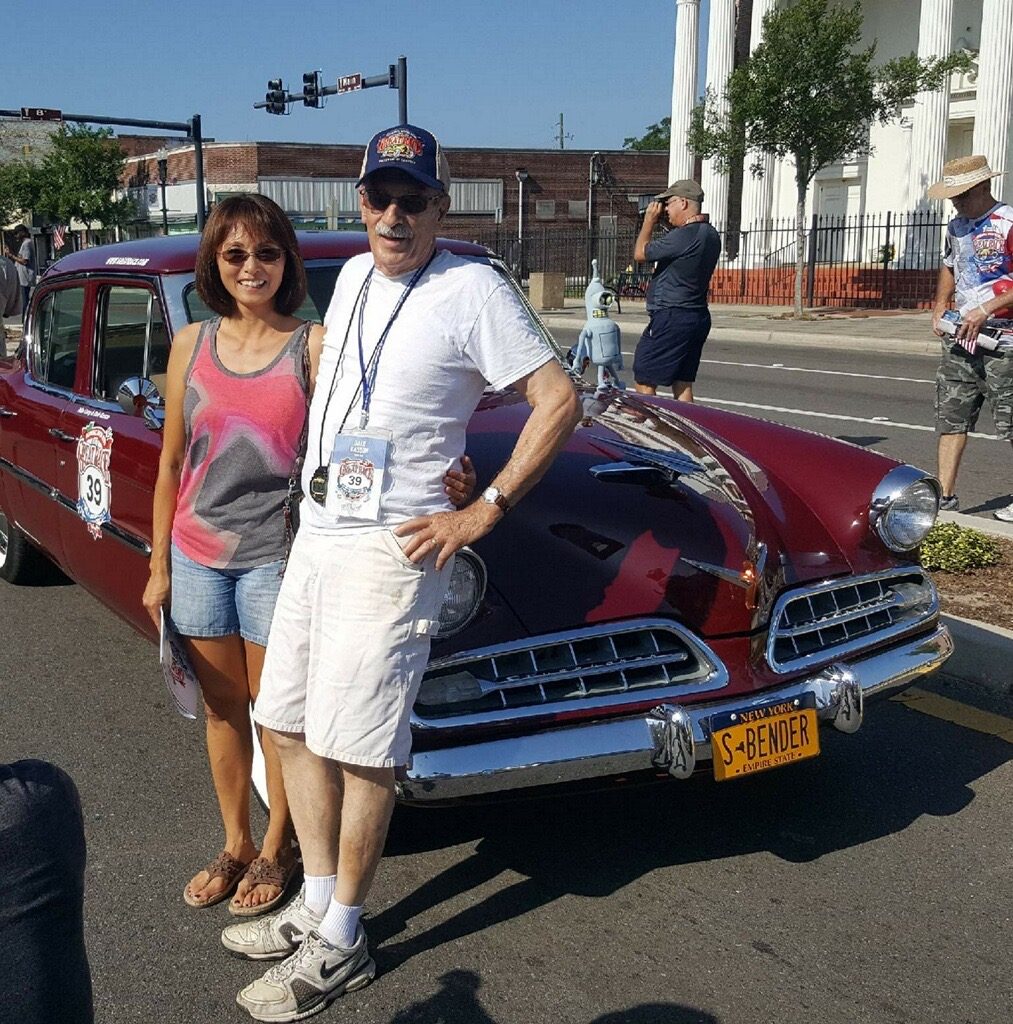 It was already well past lunch time when we finally got to real rallying, which, coincidentally is precisely when Bender started choking on his meatballs (please refer to first paragraph above). Oh well. A super dinner at a lovely site (City hall, in a renovated classic hotel in Tifton):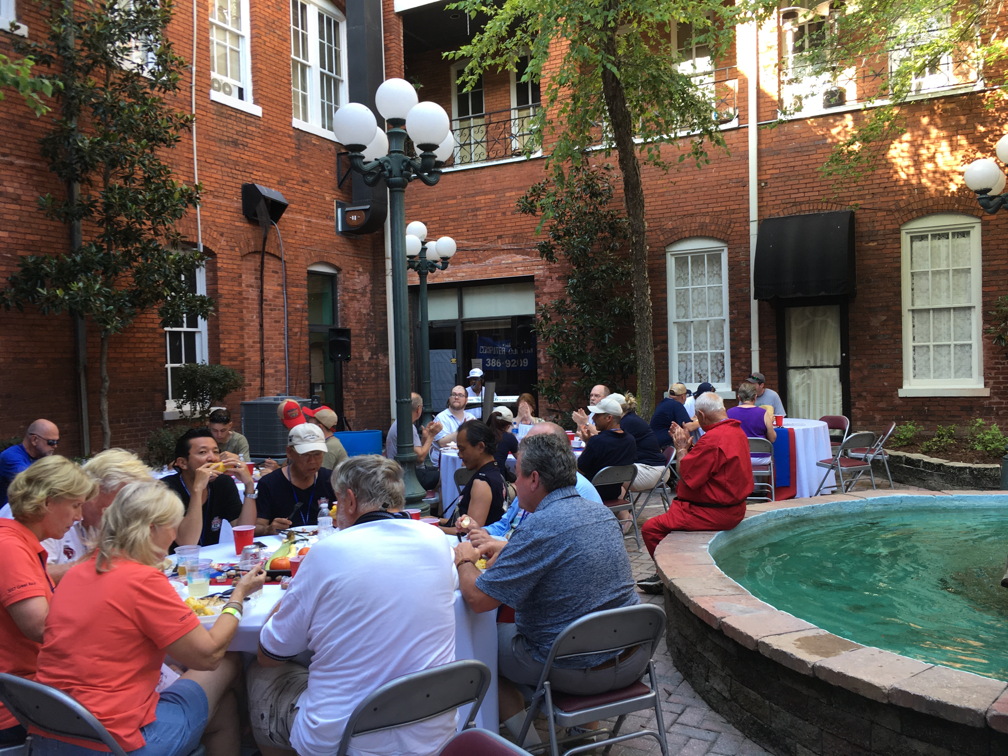 Then off to the hotels, with a stop at Tractor Supply and Advance Auto for bits to repair what we thought was a simple exhaust leak, but turned out to be a VERY loose manifold and associated heat issues. Finally to blogging by 10:30 tonight. As ever, Tomorrow Is Another Day! jc