Instead, we try to do well at Great Race rallying. Today, not so much, though. This works just as well as golf – it's simple really, just drive the course and stay on time! But it can be SO HARD to do right and well and consistently.
It was another lovely day in the neighborhood(s), cool and clear, rising to a brilliant afternoon among the infinite cornfields of Indiana. Almost all our roads were on the midwest grid, precisely aligned to the North star (or her sisters East, West, and South), with sharp 90-degree corners. LOTS of 90 degree corners, and quite a few stop sign crossings. IF yesterday was a driver's test, today was much harder on the navigators. Nary a hill in sight all day, though, so you'd think a LandCruiser like Bender would be in his element (especially with two cool studs on the job, full of confidence after our previous days successes). Of course, if you thought that, you'd not be familiar with the humbling ways of this game. Being in the Sportsman class, we get to throw out one bad leg each day. We had a doozy today, but our others were no County Fair prize hogs, either (that's Indiana-ese for not too good). We missed an easy turn on the second leg and went over two minutes out of our way. We made a good stab at recovery, but still came in 58 seconds late. We think we were misestimating time losses on turns, because on 4 of today's 7 legs, with lots of turns, we came in early. Today we earned 4 seconds early, 58 late, 8 early, 12 early, 1 late (a short leg, should have been an easy ace), 13 early, and 9 early. See the pattern? Now it's possible that the driver (me) just couldn't hold speed well enough. Bender's throttle linkage has developed a little hang-point that make smooth modulation a bit tricky at some speeds. But that's just sour grapes. We tweaked it a bit this evening, but it's still not really smooth.
We drew a late start, #106 of 120 in total, so we had a slow morning and a compressed lunch stop at Wapakoneta, Ohio. It's a lovely town with a handsome main-street district and a large residential stretch with victorian and other styles of homes all on nicely manicured lawns (good mowing seems to be a specialty of this part of the world!). Both here and in yeasterday's stop at Franklin, Indiana, I felt a bit as if we had entered the movie "Music Man" and its River City, Iowa. I really like towns laid out this way, especially as they have sustained their downtown sections without losing their charm.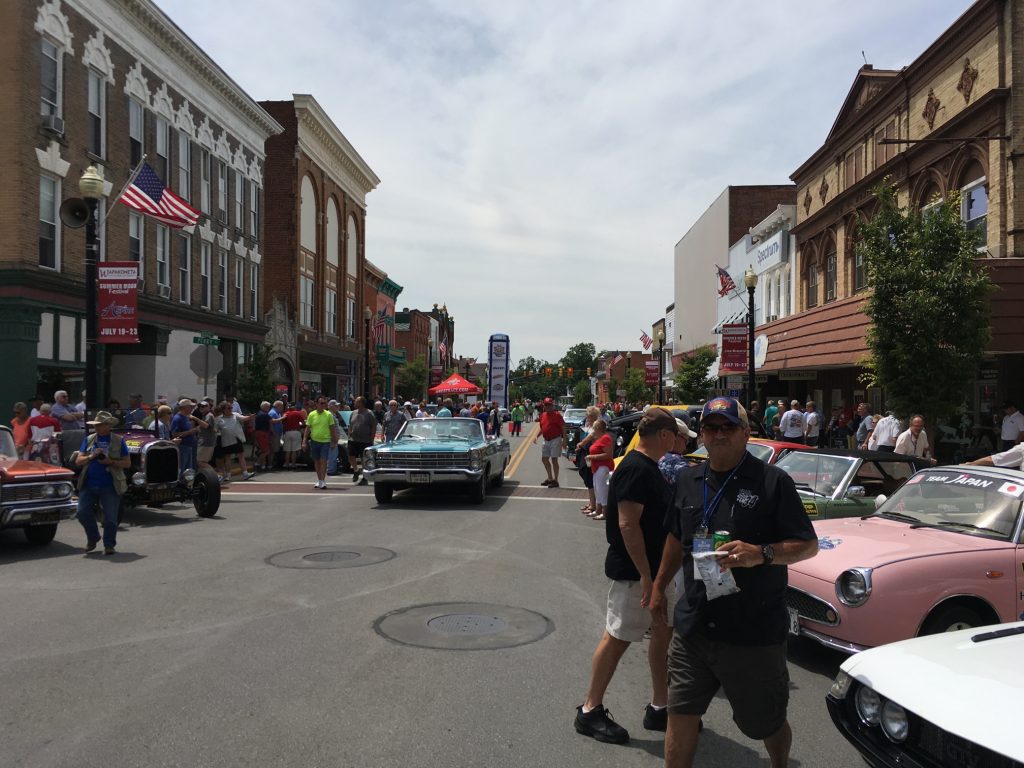 Wapakoneta's other two claims to fame are that it's the home town on Neil Armstrong of the first moon landing, and that it was the council site of the Shawnee before they were forcibly dispossessed and removed to Oklahoma territory. Credit to the city for putting that true history right on the Welcome To Wakaponeta sign. As it happens, my mother grew up by the resulting Shawnee reservation near Miami, OK. The circles are unbroken! Lunch was outside and comprised of some astronaut-like extrudable food product, served with a smile. I still don't know what it was, exactly…
Dinner was at the fabulous Auburn-Cord-Duesenburg Museum, in the original Auburn factory & showroom. Every old car guy (hmmm…, make that car PERSON) ought to make this place a bucket list entry. Superb collection of America's most astonishing and beautiful Full Classics. And a suitable meal with a fabulous selection of delicious pies for dessert, too. I confess I had more of that than the main course.

Today also had some long-run transits (unscored sections where we just have to get on to the next interesting roads or places). Our rally master threw in a little detour through a covered bridge – nice touch!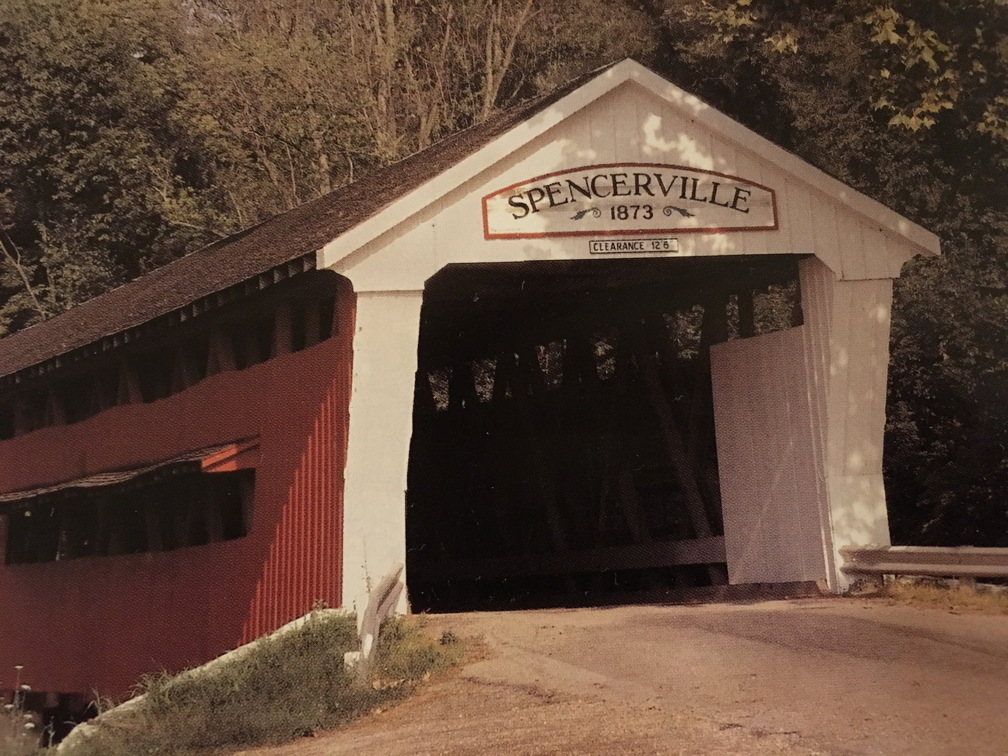 We also saw fields of big wind turbines, spinning happily (and productively) in the steady wind over this open, flat land. We also saw signs for "Citizens for Clear Skies" which seems to be a group opposed to using the wind for electric generation! I had earlier noted the extraordinary and very visible height of the grain elevators that seem to be well accepted. Also, we use the power lines as markers for side roads as they're all along the roads and visible from a mile or more away, yet some find the turbines unattractive by comparison? Maybe they's prefer pulling out those existing power lines? Personally, I am pleased to see those turbines – they are a vital (and really quite appealing to my eye) part of our future! you decide:
On the way to our hotels, we stopped at Auctions America, for their regular summer cruise, in this case with a special showing of Great Race cars!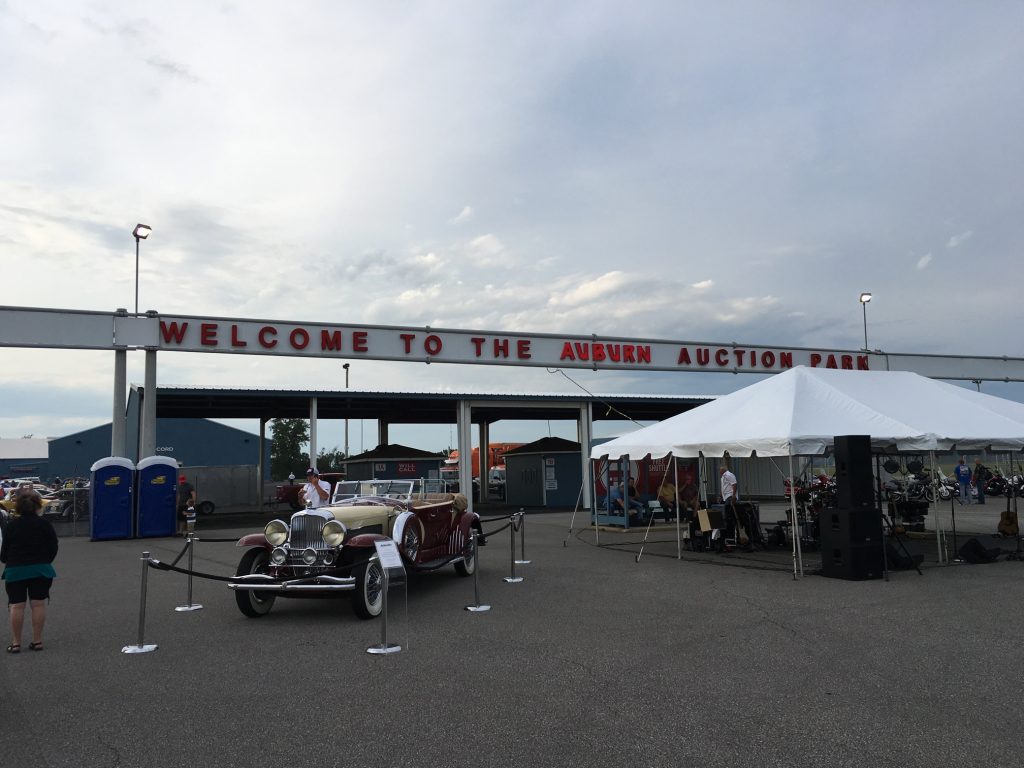 Position-wise Team Bender fell today. We were about 56th on the day and so fell from 28th to 35th overall, I think. Worse, we dropped from 8th to 16th in our Sportsman class, and the gap to the leader opened from 6 seconds to almost 30! Catching up from here will be a real challenge indeed, in the diminishing number of days remaining!
Race, Repair, Repeat. We'll get up tomorrow, and kick it again!