September 22, 2015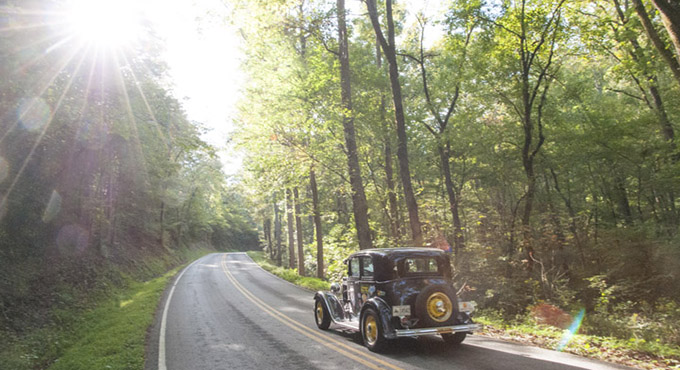 David Reeder and grandson Sawyer Stone strung together an amazing five Aces in a row on Saturday on their way to victory in the 10th annual Coker Tire Challenge in Chattanooga this weekend. Reeder and Stone, in their 1932 Ford Victoria, finished 5 seconds ahead of Howard and Doug Sharp in their 1916 Hudson in the three-day rally through eastern Tennessee and northern Georgia.
Reeder and Stone, who are from Arkansas, had a 9-second score on the Friday, a 3-second score on Saturday and a 5-second score on Sunday. The 3-seconds on Saturday came on 9 legs. In addition to the five perfect legs that day, they also had three 1s. The Sharps, who came all the way from New York, were the winners of the 2015 Great Race. Third place was Dave Haverty and Steve Pusey from Georgia in a 1937 Ford Coupe. They moved up several spots on the last day after a final-day score of 3 seconds off perfect. Fourth was Richard Fredette and Bill Loubiere from Louisiana and Texas in a 1930 Ford. And fifth was defending event champions Beth Gentry and Jody Knowles from Georgia in a 1932 Ford Cabriolet. The top placing rookie team was Kevin Pusch and Ed Calfo from South Carolina.
Click HERE for a photo recap from the event!